Did you ever dreamed about Flying?
Leaning out by a viewpoint…
Looking out from an airplane window's …closing the eyes before sleeping…did you ever dreamed about FLYING? Our professional pilot are selected between the best pilots in Italy to let you achieve this dream flying a PARAGLIDE IN TANDEM with them.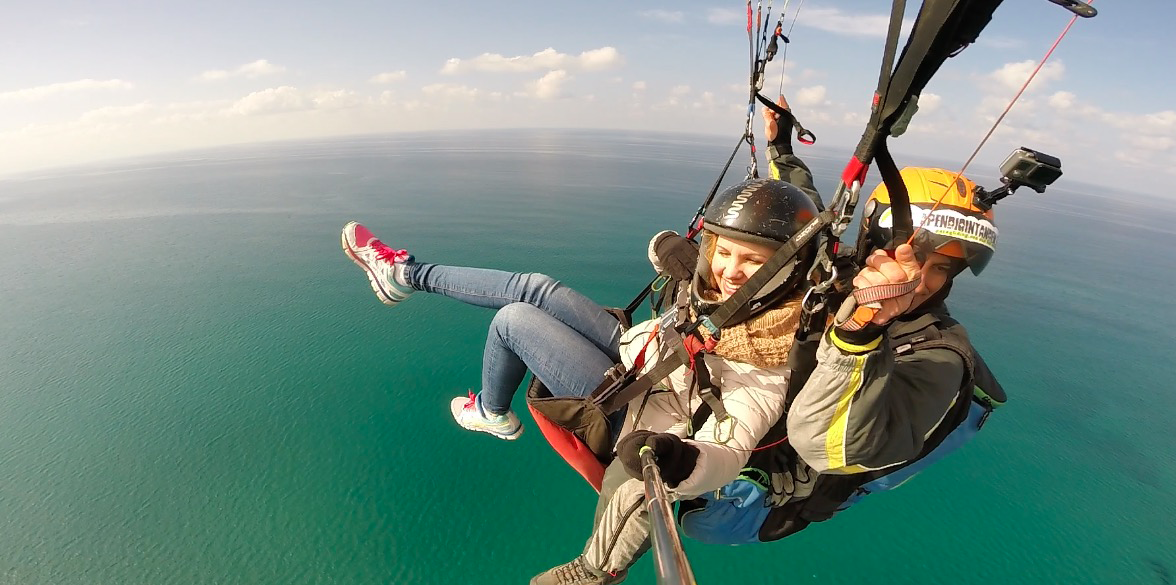 What is paragliding?
It look like a parachute but is not: parachuting / sky diving it means jump off an airplane….enjoying few seconds of free falling and only then open a "wing" that can only bring you down on the ground as soft as possible… that's not flying!
Paragliding ,instead, it's flying like a hang gliding (delta or glider) for several miles and for several minutes (from 20 min to a couple of hours)…so you don't need to jump off any airplane but you will simply run a couple of steps on the top of a soft rounded mountain (no jumping from a cliff), bounded with your pilot with special twin harness , and in a few seconds you will be running in the sky : no falling, no stress, no special ability.
the pilot will do everything is needed to take off, you will only sit and enjoy the incredible view …the pilot will start a soft navigation in the air, like a sealing boat in a calm lake, looking for "thermal" (warm air climbing the sky) to permit to fly for as much kilometres as possible and for at least 20 or 30 minutes !
Paraglide is steerable like every airplane, that's why it have to be conducted by a certificated pilot ! so it goes exactly where the pilot want…and land very soft exactly where is needed !
FAQ - Frequently Asked Questions
Is the experience available all days?
Yes, depending on the forecast, we operate 365 days per year.
What's the time schedule?
We start at 9 a.m. until sunset. We will agree on the best schedule according to your needs and the forecast.
How much time does it take?
You should allow half a day for the whole excursion. The flight will last around 20 minutes in the sky (also depends on the weather). Please be aware, at any moment the pilot must have the possibility to reach the landing in just a few minutes.
Where do you operate?
Several locations around Sicily, for example: San Vito Lo capo (Tp), Castellammare del Golpo (Tp), Fulgatore (Tp), Piana degli Albanesi (Pa), Bolognetta (Pa), Cefalù (Pa), Finale di Pollina (Pa), Gioiosa Marea (Me), Letojanni/Taormina (Me), Siculiana (Ag), cda Milena (Ag)
Can I choose the spot where to fly?
unfortunately no: only the wind can decide WHERE and WHEN to fly...so proceed to book by CLICKING HERE
so we will contact you the day before you choose and we will agree our meeting according to meteo forecast trying to fly as close as possible to your position of course
Will I experience a free fall? 
No. We will run a few steps on a soft slope, the passenger harnessed together with the pilot. As you run, you "magically" will be running in the air, a soft entrance into the sky like a plane. You do not jump off like a parachutist would have to do. Landing, in the same way, is a soft approach to the ground and not a "falling down" or "free fall."
How much does it cost?
169 € per person for the flight,a shuttle from the landing area back to the take-off spot on top of the mountain with our chosen means, and personalised "First Free Flight" certificate.
50 € per person (optional) for an HD video taken with 2 cameras (even on-board of course), edited with special effects and music, and delivered by e-mail within 1 week.
20 € per person (optional) for pick-up and drop-off service from your hotel/port/airport.
Can everybody fly?
Minimum age to fly is 7 years old (with parental authorization). Maximum age is 75 years old, you must be able to walk quickly. Exclusions: Epilepsy, pregnancy, or history of a bad injury to the legs or vertebral column.
How can I book?
Simply CLICK HERE
Our association has successfully flown with more than 6000 happy passengers.
Our pilots are all high professionals, with more than 15 years experience, officials from AeCi (Italian Aviation Federation), and are constantly updated and trained. We are proud to provide the most important tour operation and hotel/resort operating in Sicily. Our equipment is frequently tested and renewed, and checked after each flight.